Welcome to Hydrangea Derby
Hydrangea Derby was set up in 2010 to assist Derby City Council to maintain and extend this already large collection of Hydrangea.  Over the last 8 years we've increased the number of plants to 835 and focused on paniculatas, fixed the steps and gates and made a lot of very good friends.  Click here for our Leaflet 2018.  It's due to be upgraded soon.  The 2019 Open Day is on Sunday, 4 August.  More information to follow.  Private tours are from Monday 5 August to Friday 9 August:  morning, afternoon or evening.  Contact us via the contact page for more information.  We're not very good bloggers but we will give you the important information on Facebook and Twitter!
You will find information about:
The Darley Park National Collection of Hydrangea paniculata
how to find us
how you can help
detailed descriptions of all the plants in the collection
future plans for the collection
events
Get involved!  Become a Volunteer.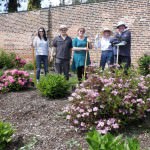 If you would like to help out with the Darley Park Hydrangea Collection, you could apply to become a volunteer!  Take a look at our Volunteer page for more details on how to help.