Welcome to Hydrangea Derby
Latest News:  the gates of the walled garden will be closed from Tuesday, 3 November 2020 and open again at the beginning of July 2021.  For more details see our News page.
Hydrangea Derby, a voluntary group,  was set up in 2010 to look after the Hydrangea Garden in Darley Park.  In the last 10 years we have become the National Collection of Hydrangea paniculata, the only such collection in the world, but still have a wide variety of other hydrangea species.  The garden now holds 890 different cultivars.    Click here for our Leaflet 2018.  The garden is in a public park so is open all year with free entry.  Part of the collection is in a walled garden which is open from July to November when the plants are in full bloom.  It is open all day during these months and entry is free.  We're not very good bloggers but we will give you the important information on Facebook and Twitter!
We've set up a Just Giving Page this year (2020) because we've lost our usual income from the cafe box, our open day and our private tours.   Use the link above to donate and keep this extraordinary collection of pink, mauve, green and white flowers going for another year.  Feedback from visitors is always good so do come and visit if you haven't done so already!
You will find information about:
The Darley Park National Collection of Hydrangea paniculata
how to find us
how you can help
detailed descriptions of all the plants in the collection
future plans for the collection
events
Get involved!  Become a Volunteer.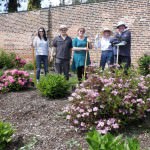 If you would like to help out with the Darley Park Hydrangea Collection, you could apply to become a volunteer!  Take a look at our Volunteer page for more details on how to help.