Volunteer with Hydrangea Derby
Hydrangea Derby works in partnership with Derby City Council.  It was formed in 2010 when Peter Smith, the founder of the collection, retired from the council parks department and could see that without the help of volunteers the Plant Heritage collection would disappear.  By the end of 2018, we've added another 120 to the collection and have partnered with Broomfield College who are looking after some others we were given.
So your help as a volunteer is essential if we are going to keep this collection of Hydrangeas (some on the endangered list) growing in Derby.
To join in, please contact info@hydrangeaderby.co.uk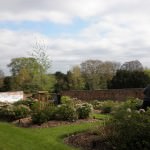 Hydreangea Derby Needs You!
We are getting ready to continue our work in the hydrangea garden in 2019.  We continue to look for and receive new funding to the collection although thanks to the generosity of our visitors and pledger to Crowdfund, we can look for a lot more new plants.  This year we'll continue to thin out the hydrangeas in the outer garden and add the new ones growing on in our back gardens. As we do this we'll keep up the battle with ivy, bindweed and bramble! The collapsed wall in the walled garden is due to be rebuilt. You will soon be seeing the new signage to the gardens from the café. We're getting on with labelling each plant and tree. The world is being scoured for any new varieties of Hydrangea paniculata to add to our burgeoning collection. March will see them all pruned and ready for a new crop of fantastic blooms.
We still have many more plants to add and will do so in Spring or Autumn as they reach the correct size for survival.   The RHS trial is over so we kept one of each and gave the others away to community and private gardens.  Broomfield College have already potted on the serratas we handed over and have plans to plant them along their main driveway, for maximum impact.
Volunteers meet most Tuesdays and the 4th Saturday of the month between March and October.  We work for 2 hours between 10am and 12 noon, except when the weather is against us, with a coffee break at 11am.  When there is extra maintenance to do or plants to plant we add some extra days.   For the last 8 years the gates to the walled garden have been open from late July to late October.  The first Tuesday work-day will be Tuesday 26th February when we will be pruning the Hydrangea paniculata cultivars.  For a full list of dates and tasks, email us through our contact page.
The Open Day has been arranged for Sunday, 4th August 2019.  We'll be there to answer questions between 10.30am and 3pm with conducted tours at 11am and 2pm.  No need to book.  Meet at the Terrace Cafe.