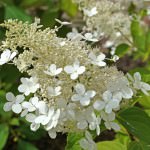 Bed C: Plant 06 & Bed Z: Plant 12
'Vera' produces large quantities of small inflorescences, the white or cream sterile florets on long stalks, later turn pink. Flowers develop in August and September.
Van Gelderen suggests that this is an old cultivar probably no longer in cultivation and says that an old catalogue of Arboretum Kalmthout suggests that this is the species itself. Bred before 1900 by de Kort, who preceded Robert and Jelena de Belder at Arboretum Kalmthout.
UK Plant Finder: Not listed