Volunteer with Hydrangea Derby
Hydrangea Derby is a voluntary group. We work in close partnership with Derby City Council to make this area of Darley Park a delight to visit and an attraction which draws more visitors to Derby. We are members of Plant Heritage whose role it is to save plant species and cultivars from extinction. In the last 11 years, we have become the only National Collection of Hydrangea paniculata in the world. Our other hydrangeas have not been abandoned and have been given the extra care and attention they have sorely needed. We've added lots more plants which we have been given or purchased. All this work has been done by volunteers!
There is a small committee who run the administrative side of things and a very willing group of gardeners who come out between March and October on a Tuesday morning to take on all sorts of gardening jobs, from planting new varieties, deadheading, pruning, weeding, sweeping paths, dividing and moving overgrown plants and anything else that needs doing.
If you would like to join the group, get in touch through our Contact page. We only expect you to do what you can. Within the 2 hours we meet between 10am and 12, there is a chance to get to know the other volunteers over a cup of tea at 11am but that's not compulsory!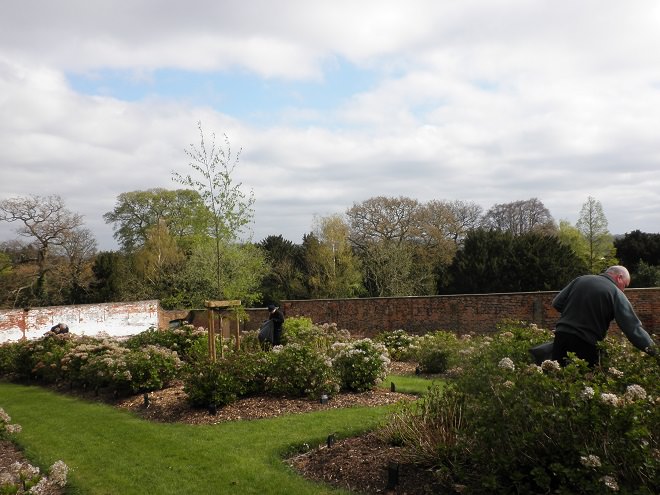 Donate to Hydrangea Derby 
As we prepare to continue our work in the hydrangea garden in 2021, we continue to look for and receive new funding for the collection. Excellent as it is to have more volunteers, they will need more equipment in 2022.   There are plenty more plants we can purchase to go into the garden.  The labelling of all the plants must continue.  We are also wondering about an upgrade to the landscaping at the entrance to the garden, and to improve access for everyone to all parts of the garden.  New leaflets are needed, and we need to pay our website and Plant Heritage fees.  A more efficient watering system is required if we have another drought.  Funding must be found to repair the wall that has collapsed in the walled garden and for that bed to be brought back to life.  All these things are on the agenda but we do need funds to complete the tasks. 
Our Just Giving Page is a click away and if the Darley Park café can open again next year, we have a donation box on the far wall.