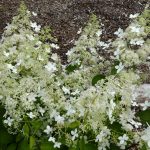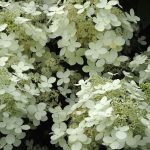 In Hydrangea, there are two types of flowers, these are:
a) Fertile flowers that have carpels, nectar, ovaries, stamens (with pollen) and very small sepals and petals.
b) Sterile flowers that do not have any carpels, ovaries, or nectar, but do have stamens (with pollen) and usually very
large sepals.
Bees and other insects are only attracted to the fertile flowers, so flowers with the largest number of fertile flowers
would be the best to attract insects, although I have no information on whether or not the individual fertile flowers of
some cultivars are more or less attractive to insects than other cultivars
In general the cultivars with the least number of sterile flowers form the most open panicles; however the size of the
sepals on the sterile flowers can make a big difference. Cultivars like 'Levana', & 'Butterfly' still have plenty of fertile
flowers to attract insects, but their large sepals on the sterile flowers provide a more attractive display than the more
typical open flowered cultivars that have smaller sepals.
The cultivar with the most fertile flowers and the least sterile flowers is 'Brussels Lace' On this cultivar the fertile
flowers form dense areas on the panicle making them quite attractive for fertile flowers.. Another good cultivar with
plenty of fertile flowers is 'Chantilly Lace', this one has well separated sepals giving the flowers an even more lacy
appearance.
This is a list of all the cultivars listed in the UK On-line Plant Finder that have open flowers, (i.e. more fertile
flowers than sterile flowers):  Big Ben; Brussels Lace; Burgundy Lace; Butterfly; Chantilly Lace; Confetti; Everest; Green Spire; Kyushu; Levana; Melody; Papillon; Starlight Fantasy; Taiwan Form; Tender Rose; White Lace; White Melody; White Moth; Yuan Yang.
The RHS Find-A-Plant website is at: https://www.rhs.org.uk/plants/search-form
I have included the expected height and the number of nurseries offering the cultivar via the Plant Finder in 2022.
You should be able to find images of most of these on Google Images.