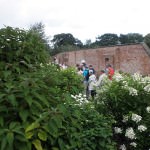 This year the Open Day will be on Sunday, 10th August 2014.
The collection is situated at Darley Park, Derby.  Parking details with post codes are on the Home Page.
Members of the Hydrangea Derby team will be near the Terrace Café in Darley Park from 10am to 4pm.
There will be conducted tours at 11am, 1pm and 3pm.  No need to book.  Free but donations very welcome.