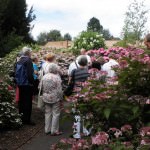 Hydrangea Derby is the largest collection (564 types) of Hydrangea in UK and can be found near the Terrace Café in Darley Park, Derby.
It is owned by Derby City Council but maintained by Friends of Darley Open Spaces (FoDOS) and its partners.
The Walled Garden is open for public viewing from mid July to late October and we invite you to our:
Open Day
Sunday, 6 August 2017
10am to 3pm
Free Conducted Tours of the Collection at:
Meet at the Terrace Café (no need to book)
www.hydrangeaderby.co.uk.  Now follow us on Facebook and Twitter.